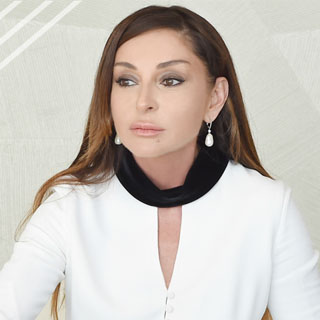 Mehriban Aliyeva
President of Azerbaijan Gymnastics Federation


You are welcome to the official website of Azerbaijan Gymnastics Federation. Our website is a kind of a virtual door into the world of gymnastics.



Every sports discipline is beautiful in itself. But, it is difficult to find any other such a well-balanced, spectacular and splendid discipline like gymnastics. History of gymnastics dates back to the depth of thousand years. In ancient times, participants of the first Olympic Games used gymnastics exercises as a part of their preparation. Main gymnastics elements originated at the earliest stage of formation of modern sports in the 19th century. Today, nowadays, gymnastics continues to develop and improve. New champions, new legends of rhythmic gymnastics come out in every championship and subsequent events.
Modern Azerbaijan is acknowledged as a sporting power across the world. Both sport of high achievements and mass sports are popular in our country. Support of sport and the Olympic movement is one of the important directions of state policy. Athletes - Azerbaijani delegates participate in the most prestigious international competitions on a regular basis. A number of medals won by our sportsmen at the Olympic Games increases. Our country regularly hosts large-scale international competitions. The international sporting community entrusted holding of the European Games for the first time in history namely to Azerbaijan. This is a great honor for our country; it is an expressive acknowledgement of successes achieved by Azerbaijan, including development of sports and sporting infrastructure.
Today, gymnastics has become a really favorite and popular sports in Azerbaijan. Our gymnasts mount the podium at significant competitions and already enter into competition with the teams of other countries in a worthy manner. Domestic coaching school is being developed in Azerbaijan. If, not long ago, Azerbaijani gymnasts used to set out for abroad to take part in training camp, today, athletes from other states are coming to our country to train. Azerbaijan regularly hosts European and World Championships in Rhythmic Gymnastics. Nowadays, Azerbaijani Rhythmic Gymnastics School is recognized by the world sports community. Different gymnastics disciplines – Rhythmic Gymnastics, Men's and Women's Artistic Gymnastics, Acrobatic Gymnastics, Trampoline Gymnastics, Tumbling and Aerobic Gymnastics are being developed in our country. Gymnastics clubs and sections operate in many regions of Azerbaijan. A number of athletes representing our country's regions within the composition of our national team is increasing. There are interregional cup competitions regularly held in rhythmic gymnastics. All of these is an expressive evidence of how wide is today's geography of Azerbaijan gymnastics.
Great efforts of many people is behind all these achievements. Azerbaijan Gymnastics Federation is a team of professionals who are able to represent our country with dignity in sports world, as well as concurrently to solve many organizational and technical tasks – from development of gymnastics in Azerbaijan to holding prestigious international competitions, including the European and World Championships regularly hosted by Azerbaijan. In June 2014, the thirtieth anniversary European Championships in Rhythmic Gymnastics were held at a newly built Milli Gimnastika Arenası (National Gymnastics Arena) reputed to be one of the new architectural wonders of Baku. This arena is up-to-date, multifunctional, sports complex meeting the highest standards.
Successes in sports depends on many factors – talent, hard work, professionalism and will to win. Moreover, there should also be a belief in yourself and team in sports. We are confident - Azerbaijan gymnastics will have a lot of victories and achievements ahead. We have all conditions and great potential for development. The most important fact is that we have the future – athletes training in numerous gymnastics sections both in Baku and the country's regions. And, the main thing is - Azerbaijan Gymnastics School has fans and supporters like you, friends! Thanks to you, gymnastics has become a really favorite sports discipline in Azerbaijan. Therefore, I am confident that we will succeed.
Welcome to the world of gymnastics – the world of sport, strength, beauty and harmony!