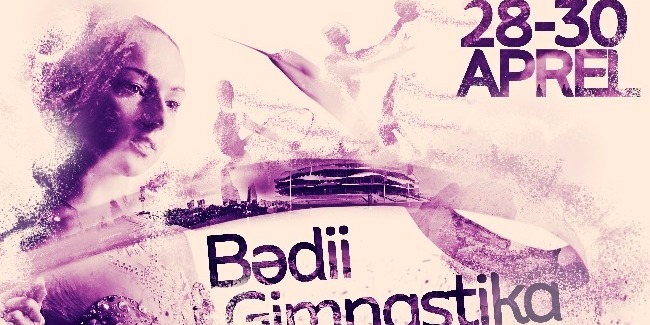 Representatives of most elegant gymnastics discipline in Baku again
Baku will host another FIG Rhythmic Gymnastics World Cup on April 28-30.
The representatives of the most elegant sports discipline from different countries of the world will gather at Milli Gimnastika Arenası (MGA, National Gymnastics Arena) to demonstrate their mastery this time as well.
The participation of 94 gymnasts from 21 countries is expected in the event. 37 of them will perform in the individual program, while 57 gymnasts will take part within the teams of group exercises.
Silver and bronze medalist of the European Championships among juniors - Zhala Piriyeva, talented gymnast Zohra Aghamirova, as well as silver medalists of the European Championships within team in group exercises - Siyana Vasileva, Diana Doman, Aleksandra Platonova, Ayshan Bayramova and Elif Zeynep Celep will represent Azerbaijan at these events.
The results of the qualifications to be held on the first two days of the competitions, will define the winners in the all-around as well as the apparatus finalists both among individual gymnasts and the teams in group exercises. The finals will be held on the last day of the competitions.
During the three-day events, along with the well-known Azerbaijani gymnasts, the spectators will get an opportunity to watch the performances of favorite athletes from abroad.
Thus,
Aleksandra Soldatova (Russia) – two-time World and European Champion;
Nicol Zelikman (Israel) – bronze medalist of the European Championships;
Teams in group exercises:
Spain – silver medalists of the Olympic Games;
Bulgaria – bronze medalists of the Olympic Games;
Belarus – bronze medalists of the World Championships
will take part in the event.
Tickets for events can be purchased at the ticket office of MGA, as well as "Bazarstore" chain (Khatai and "28 Mall" branches). The ticket prices for qualifications are 5, 8, 12 manats, while for finals are 10, 15, 20.
More detailed information about the competitions can be found on the federation's official website (www.agf.az).
Competitions start at 12:00.
Venue: Milli Gimnastika Arenası
Telephone: (+994 12/51) 566-96-99
Address: 178 Heydar Aliyev Ave., Baku
Passage: "Koroghlu" underground station