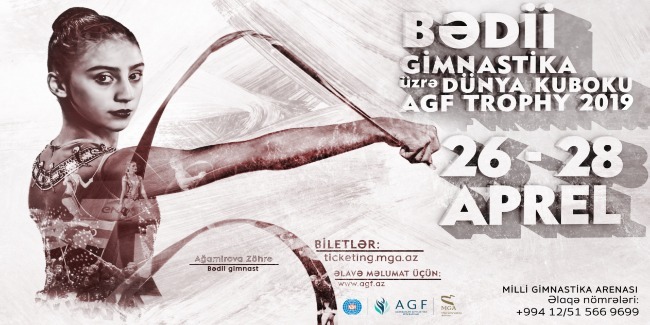 There will be held the FIG Rhythmic Gymnastics World Cup, AGF Trophy at Milli Gimnastika Arenasi (National Gymnastics Arena) on April 26-28.
Following the Trampoline and Artistic gymnasts, the most elegant representatives of Gymnastics will take over the Field of Play and test their strength.
According to the provisional list of the participants, more than 200 gymnasts from 39 countries are expected to compete at this World Cup. According to this list, 25 teams in group exercises and more 70 individual gymnasts will execute their routines in front of the judges.
On the first 2 days of the events, there will be qualifications and only 8 individual gymnasts and groups with the highest scores, will be able to perform in the final. The winners of the thrilling final stage will be defined on Aprel 28. Besides, the traditional "AGF Trophy" will be presented to the individual gymnasts and gymnasts in group exercises who received the highest execution score.
The spectators wishing to watch the competitions of the most elegant gymnasts can already purchase their tickets at MGA Ticket Office, 28 Mall and Ganjlik Mall shopping centers as well as online https://ticketing.mga.az/. Depending on the qualification and final days, the price of the tickets constitutes 10, 12 and 15 manats.
It should be mentioned that the Seasonal Ticket, offered by the federation on more favorable terms this year, will also be available at the MGA Ticket Office (http://agf.az/az/news/2151//competitions/information/159).
The information about the events will regularly be updated on our website.
Competitions` start time: 12:00
Venue: Milli Gimnastika Arenası
Contact number: (+994 12/51) 566-96-99
Address: 178 Heydar Aliyev Ave., Baku
Passage: Koroghlu metro station