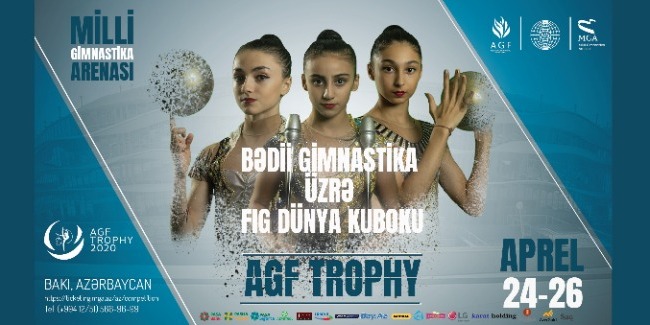 After 4 international events in Rhythmic Gymnastics, including World and European Championships successfully held in 2019, Azerbaijan Gymnastics Federation prepares for the competitions in this discipline in 2020 as well.
The events of the most elegant representatives of Gymnastics will traditionally be held in April.
The provisional registration list of the countries of the World Cup to be held on April 24-26, will be available in December.
The participants of the World Cup will get a chance to qualify for the Olympics. The gymnasts, who failed to qualify for Tokyo Olympic Games at the World Championships in Baku, will test their strength one more time during these events.
On the first 2 days of the competitions, there will be qualifications and 8 individual gymnasts and teams in group exercises with the highest scores in the All-Around, will be able to reach the finals. On the last day of the events, the winners of the finals will be determined.
In the tournament, the traditional "AGF Trophy" will be presented to the gymnasts who got the highest execution score.
In order to witness the competition of the most elegant gymnasts live, you can purchase the tickets at MGA Ticket Office, as well as online (https://ticketing.mga.az/). The price of tickets for qualification days constitutes 10 and 15 manats. The tickets for final days can be purchased at 15 and 20 manats.
Moreover, loyal spectators of the gymnastics competitions can get seasonal tickets presented by Azerbaijan Gymnastics Federation at MGA Ticket Office.
Periodically updated information about the events will be available on our website (https://agf.az/az/competitions/).
Venue: Milli Gimnastika Arenasi (National Gymnastics Arena)
Contact: (+994 12/51) 566-96-99
Address: Baku, H. Aliyev ave., 178
Passage: "Koroghlu" underground