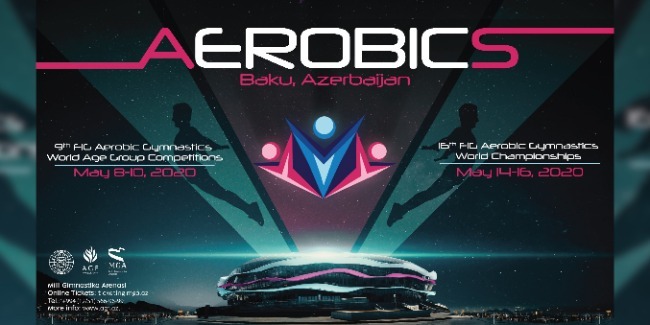 The most large-scale competition to be organized by Azerbaijan Gymnastics Federation in 2020 is the Aerobic Gymnastics World Championships.
This event hosted by our country for the first time will be organized on May 14-16.
The European Championships in this discipline, development of which started in Azerbaijan in the recent period, was organized in 2019 for the first time. Milli Gimnastika Arenasi (MGA, National Gymnastics Arena) successfully hosted the Aerobics Europeans is now preparing to open its doors to the representatives of the most dynamic gymnastics discipline during the Worlds.
According to the provisional registration list, 491 gymnasts from 36 countries are expected to compete at the Championships.
The nominative list of the participants will be available one month prior to the competition.
At the Championships to be lasted 3 days, gymnasts will compete in the programs of "Individual Women", "Individual Men", "Mixed Pairs", "Trios", "Groups" as well as "Aero Dance" and "Aero Step". According to the rules, one participant can only perform in maximum 3 categories. At the Championships, there will be qualifications and finals in each category.
In order not to miss the competition of the best athletes, you can purchase the tickets at MGA Ticket Office, as well as online (https://ticketing.mga.az/). The price of the tickets for qualification days constitute 10 and 12 manat, while the tickets for finals cost 12 and 15 manat.
Moreover, loyal spectators of the gymnastics competitions can get seasonal tickets presented by Azerbaijan Gymnastics Federation at MGA Ticket Office.
Periodically updated information about the events will be available on our website (https://agf.az/az/competitions/).
Venue: Milli Gimnastika Arenasi
Telephone: (+994 12/51) 566-96-99
Address: 178 Heydar Aliyev Ave., Baku
Passage: "Koroghlu" underground station