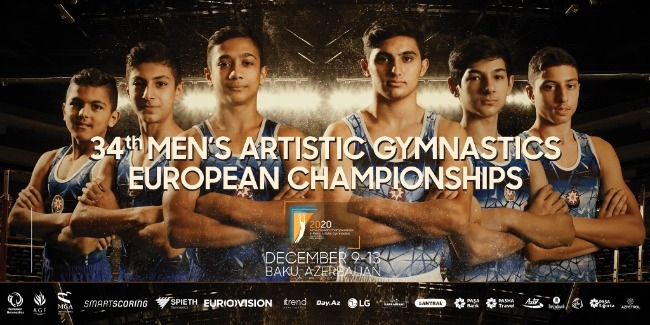 New dates for the Men's Artistic Gymnastics European Championships to be hosted by Azerbaijan for the first time, have been announced.
The postponed Continental Championships due to the COVID-19 pandemic is rescheduled for December 9-13. This decision was made after the discussions of the European Gymnastics with the Local Organizing Committees and a review of the current situation in Europe connected with the pandemic.
It should be mentioned that the Championships had to take place on May 27-31. However, this event was postponed due to the COVID-19 global pandemic.
The 34th Continental Championships, where the strongest athletes of Europe are expected to compete, will be held in the same venue – Milli Gimnastika Arenasi (National Gymnastics Arena).
39 countries have confirmed their participation in this competition. According to the definitive registration list, 159 seniors and 165 juniors from 324 gymnasts to compete for the title of Champion and awards, will join the event. A total of 736 persons are expected to visit the capital of Azerbaijan.
The competition format remains the same as originally planned. Both senior and junior gymnasts will participate in the Championships. The event will give some senior gymnasts, who have not yet qualified for the Tokyo 2020 Olympic Games, a last chance to qualify. Thus, two gymnasts who competed in the All-Around, and, at the same time, still having a right to qualify for the Olympics, will qualify for Tokyo 2020 according to the Qualifications result in the All-Around of the European Championships.
It should be noted that the age limit for junior gymnasts should be 14-18, and the minimum age for senior athletes should be 18.
President of the European Gymnastics Farid Gayibov, speaking about the new dates of the Championships, stated that these decisions had been taken based on the information received from National Federations and consideration of the current situation in Europe. "At the moment, we think that it is possible to organize these events in fall. However, European Gymnastics will continue to evaluate the situation during the next months. Should the situation not be considered safe enough anymore at a later date, we will react accordingly. The health of the gymnasts, coaches, spectators remains our main concern."