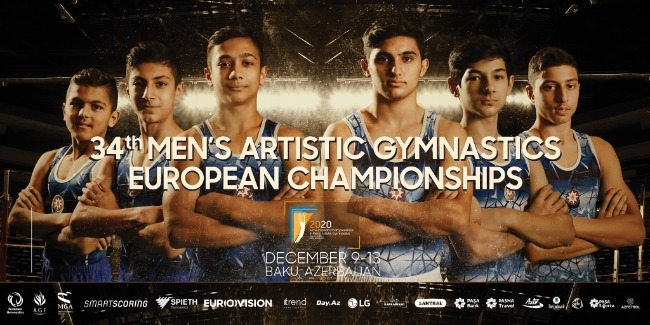 There will be hosted the European Championships in Men`s Artistic Gymnastics in Azerbaijan for the first time.
The 34th Continental Championships, where the strongest athletes are expected to compete in, will be held at Milli Gimnastika Arenasi (MGA, National Gymnastics Arena) on May 27-31.
The provisional registration list of the competition`s participants will be available at the end of February, while the final nominative list will be published at the end of April.
The Championships, in which both seniors and juniors will participate in, will give the last chance to qualify for the Tokyo 2020 Olympic Games to senior gymnasts who have not qualified yet. Thus, 2 gymnasts with the highest score in the qualifications, performing in the All-Around and being eligible for the Olympic Games, will qualify for the Games.
It should be mentioned that age limit for junior gymnasts is 14-18, while senior athletes should be minimum at the age of 18.
According to the Technical Regulations of the European Union of Gymnastics, senior gymnasts will perform in the Team Final and Apparatus Finals at the Men`s Artistic Gymnastics European Championships to be held this year. Junior gymnasts will compete in the All-Around Finals and Apparatus Finals and the winners in Team Competition will be determined according to the qualification results.
Moreover, the professional mascots from the USA - Scott Hesington and Barry Anderson, known as the AGF's "Gur-Gur" mascot and "Luigi" mascot of the European Championships, will visit Baku for this event again. The mascots, who cause a smile, positive and good mood for both spectators and gymnasts, will revive the "Luigi monkey" at Milli Gimnastika Arenasi once again.
You can purchase the tickets at MGA Ticket Office, as well as online (https://ticketing.mga.az/). The price of tickets for the first 3 days for the Championships constitute 8 manat, while it is 10 manat for the 4th day and 12 manat for the last day accordingly.
Moreover, loyal spectators of the gymnastics competitions can get seasonal tickets presented by Azerbaijan Gymnastics Federation at MGA Ticket Office.
Periodically updated information about the events will be available on our website (https://agf.az/az/competitions/).
Venue: Milli Gimnastika Arenasi
Contact: (+994 12/51) 566-96-99
Address: 178 Heydar Aliyev Ave., Baku
Passage: "Koroghlu" underground station