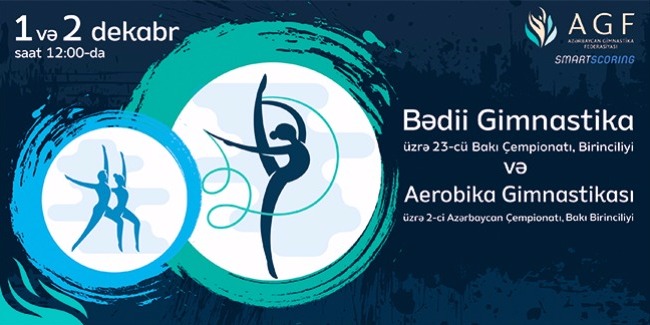 Two different gymnastics disciplines at the same time
Milli Gimnastika Arenası (MGA, National Gymnastics Arena) will open its doors to sports fans at traditional gymnastics hour on December 1 & 2. This time, there will be held the 23rd Baku Rhythmic Gymnastics Championship and the 2nd Azerbaijan and Baku Aerobic Gymnastics Championship among age categories at the Arena.
On competitions' first day, youngsters (2006-2008 - without apparatus, a hoop, a ball), pre-juniors (2004-2005 - without apparatus, a rope, a ball, clubs) and juniors (2001-2003 - a rope, a hoop, a ball and clubs) will demonstrate their performances.
Later, we will watch splendid performances of 8 groups in team exercises in the youngsters category (2006-2008) to be executed without apparatus and with balls.
On the second day of the tournament, along with rhythmic gymnasts, representatives of aerobic gymnastics will demonstrate their skills. The sportsmen included into the categories of children (7-8-year-old), youngsters (9-11-year-old), pre-juniors (12-14-year-old), juniors (15-17-year-old) and seniors (18-year-old and elder) will compete in the individual and trio programs.
141 gymnasts in total will represent Baku Gymnastics School, "Ojaq Sport", "Gomrukchu", "Sarhadchi", "Spartak" clubs, Sports Society of the Ministry of Internal Affairs, Republican Complex Sports School and Shaghan Olympic Sports Complex.
Flash mobs, contests for the audience to be held in the course of the event, will facilitate to the presence of good mood among spectators. The photos shared by active users on the competitions' Facebook page will be displayed on a large screen installed in the competition hall. Naturally, both the spectators and competitors will experiences exciting moments.
The events can be watched on CBC Sport TV channel and official website of Azerbaijan Gymnastics Federation (www.agf.az) to be broadcasted live.
The more detailed information about the event is available on the federation's website.
Tickets for events can be purchased at the ticket office of MGA, as well as at "Bazarstore" supermarket (Khatai, "28 Mall"). Ticket prices starts from 3 manats.
More detailed information can be found by calling (+994 12/51 566-96-99), as well as on official website of Azerbaijan Gymnastics Federation (www.agf.az).
Competitions start at 12:00.
Venue: Milli Gimnastika Arenası
Address: 178 Heydar Aliyev Ave., Baku
Passage: "Koroghlu" underground station