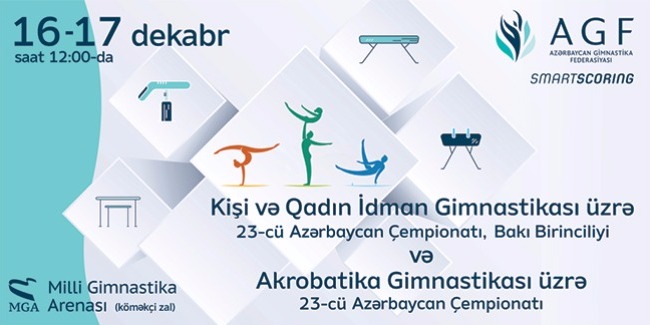 Milli Gimnastika Arenası (National Gymnastics Arena, MGA) is already prepared for this year's last gymnastics event. Thus, the 23rd Azerbaijan and Open Baku Women's and Men's Artistic Gymnastics Championship among Age Categories and the 23rd Azerbaijan Acrobatic Gymnastics Championship will be held at MGA's subsidiary hall on December 16 & 17.
On both competition days, Men's Artistic Gymnasts will perform in 6 age categories (beginners - 2008-2009, minors - 2006-2007, youngsters - 2003-2004, pre-juniors - 2001-2003, juniors - 1999-2001, seniors born in 1998 and older), while Women Artistic Gymnasts compete in 4 age groups (minors - 2009, children - 2007-2008, youngsters 2006, juniors, seniors born in 2002 and older).
In Acrobatic Gymnastics events, Men's Pairs, Women's Pairs, Mixed Pairs and Women's Groups included into the age categories of youngsters (2002-2010), children (2000-2007), pre-juniors (1998-2006) and seniors (born in 2002 and older) will demonstrate balance, dynamic and combined exercises.
115 sportsmen in total will represent Baku Gymnastics School, "Ojag Sport" and "Neftchi" Clubs, Specialized Olympic Reserves' Children-Youth Sports School No. 13 of Nizami District, Republican Olympic Spots Lyceum, as well as Sumgayit city at the competitions.
The events can be watched on CBC Sport TV channel and official website of Azerbaijan Gymnastics Federation (www.agf.az) to be broadcasted live.
Tickets for events can be purchased at the ticket office of MGA, as well as at "Bazarstore" supermarket (Khatai, "28 Mall"). Ticket price is 3 manats.
More detailed information can be found on official website of Azerbaijan Gymnastics Federation (www.agf.az).
Competitions start at 12:00.
Venue: Milli Gimnastika Arenası (MGA's subsidiary hall)
Address: 178 Heydar Aliyev Ave., Baku
Passage: "Koroghlu" underground station