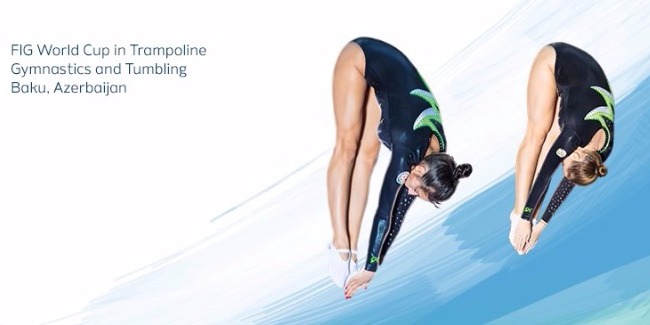 Baku hosts new Olympic Cycle's first Trampoline Gymnastics World Cup
This time, Azerbaijan Gymnastics Federation launches the competitions' season with the FIG World Cup in Trampoline Gymnastics and Tumbling. Thus, the first FIG (International Gymnastics Federation) World Cup in Trampoline Gymnastics in the new Olympic Cycle will take place at Milli Gimnastika Arenası (MGA, National Gymnastics Arena) on February 18 & 19.
85 Trampoline and Tumbling gymnasts, arrived in our capital from 15 countries, entering into strong contest within two-days, will test their strength on the basis of the new Code of Points coming into force in 2017. The Qualifications to take place on the first day of the competitions to be followed by Finals next day.
At these events, Azerbaijan will be represented by Ilya Grishunin, Oleg Piunov, Ruslan Aghamirov, Sviatlana Makshtarova and Veronika Zemlianaia in the trampoline individual program and within synchro pairs as well as by Mikhail Malkin on the tumbling track.
The World Cup in Trampoline Gymnastics, the development of which started in Azerbaijan from the end of 2013, will be organized in our country for the second time, while Tumbling events of this kind, will make a debut in our country this year. Gymnastics competitions, always distinguished by its high-level organization, promises to be remembered by a number of new introductions this time as well.
Along with witnessing an interesting competitive rivalry in presentation of "flying" stars - Trampoline and Tumbling gymnasts - the spectators will also be able to participate in entertaining contests and flash mobs.
Among famous men trampoline athletes, there will be Olympic Games' gold medalist Uladzislau Hancharou (Belarus), silver medalist Dmitrii Ushakov (Russia), the medallists of the World Championships Sebastien Martiny (France), Andrey Yudin (Russia), Mikhail Melnik (Russia), while Tatsiana Piatrenia (Belarus) and Anna Kornetskaya (Russia) will be represented among women.
At tumbling men's events, the World Championships' silver medalist Grigory Noskov (Russia) is in the list of competitors on the tumbling track, while at women's competitions, gold winner of the European Championships Anna Korobeinikova (Russia), as well as silver medalist of the World and European Championships Lucie Colebeck (Great Britain) and other gymnasts will demonstrate their mastery.
Tickets for events can be purchased at the ticket office of MGA, as well as, "Bazarstore" chain (Khatai and "28 Mall" branches). The ticket prices are 4, 6, 8 and 10 manats.
More detailed information about the competitions can be found on the federation's official website.
Competitions start at 12:00.
Venue: Milli Gimnastika Arenası
Telephone: (+994 12/51) 566-96-99
Address: 178 Heydar Aliyev Ave., Baku
Passage: "Koroghlu" underground station