Our gymnasts win three medals at the international tournament
21 December 2017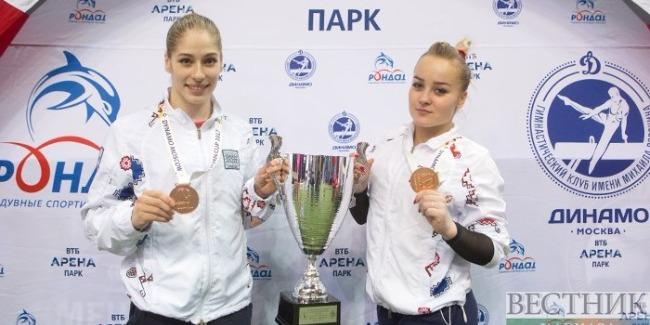 Today, our representatives have won 3 medals at the Men's and Women's Artistic Gymnastics Mikhail Voronin Cup came to an end in Russia's capital city of Moscow.

First, our gymnasts in Women Artistic Gymnastics - Marina Nekrasova and Yuliya Inshina distinguished themselves in the All-Around competitions. The girls were left behind only by Russian and Uzbekistan teams and won the Bronze medal of the tournament with 95,950 points.

In the finals on separate apparatus, Marina managed to add a medal into her personal account. Performance on her favourite program – Floor exercises brought her the "Silver" (12,266 points). The following successful performance was demonstrated by Marina on Balance Beam. She won the second Bronze medal for her routine on this apparatus for the execution of which she received 12.433 points from the judges.

Samira Gahramanova, the young representative of our team, ranked 23rd in the All-Around among her peers.
Javidan Babayev, Timur Bayramov and Samad Mammadli represented our country among the men's events. The best result by Javidan was shown in floor exercises, while Samad's best result was on Horizontal Bar. Both athletes stopped at 8th position in the finals.