27.02.2012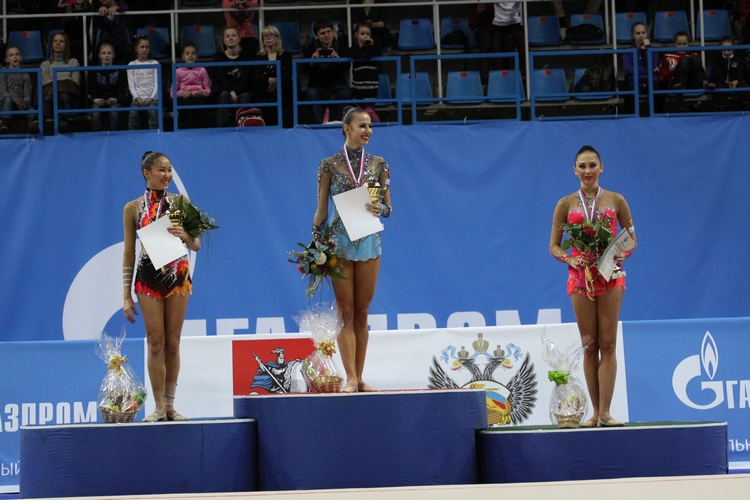 An Azerbaijani gymnast Aliya Garayeva has become a silver medalist of the current year's first Grand Prix series held in Moscow.
According to the press service of Azerbaijan Gymnastics Federation, the national team's number one gymnast won the second place in the final of an exercise with a ball having taken 0,5 points lead over a World Champion Darya Kondakova from Russia. The gold performance with a round apparatus was demonstrated by another World Champion Darya Dmitriyeva from Russia.
"At the event held, I have presented 3 new exercises – a hoop, a ball and clubs," Garayeva said. "My exercise with a ribbon is the old one but we slightly modified it as well. Though there were losses of apparatus and less gross mistakes, I was content with my performances in general. But I have a lot to work on. As usual, I have a lack of attention as during the trainings I do not make such mistakes. What I need is that my exercises turn out successful not only at the trainings but at the events as well. I would like my good execution to be seen not only by myself and my coach but by the audience and judges, as I like to perform very much and I want to make glad the spectators. In comparison with last year, I feel myself more confident. I think it is a good start of the year. There is certainly an excitement in Olympic season but we have to control our emotions and not to worry a lot."
Upon the competitions' completion, Garayeva also received a special prize for artistry from an Olympic Champion Alina Kabayeva.
In the international tournament of juniors, the best result among our gymnasts was shown by a 14-year-old Nilufar Niftaliyeva – the 6th place with clubs. She, as well as Mansura Bagiyeva, Gulsum Shafizada, Yekaterina Prokopenko put Azerbaijan into the 8th place among 35 countries in a team competition.
Next event, where the Azerbaijani gymnasts will perform, is the international tournament in the capital of Latvia. Aliya Garayeva and Lala Yusifova will set out for "Baltic Hoop" to be held on March 9-12.